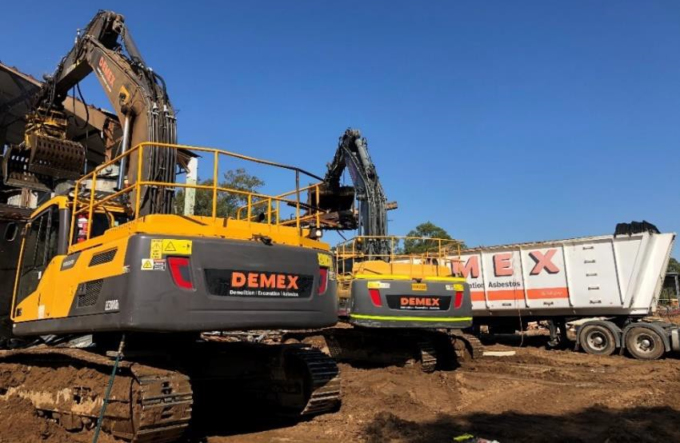 Australian SME DEMEX wins World Demolition Award honour
Congratulations to our SME construction contractor DEMEX who recently won "Best New Entrant" at the World Demolition Awards.
DEMEX was recently engaged by Thales' Australian Munitions Business to demolish 43 redundant buildings at the Commonwealth owned Mulwala facility for major capital works – the Demolition and Decontamination Tranche 1 project.
The 'Best New Entrant' award recognises the safe demolition by DEMEX of high- risk buildings at Mulwala which is one of Australia's largest and most complex Major Hazard Facilities.
DEMEX were able to complete the demolition on time in spite of limitations imposed by the COVID- 19 pandemic. Over 8,800 tons of concrete and brick, and 1,360 tons of steel recovered during the project was recycled, and 990 tons of asbestos waste was disposed of at an approved landfill using EPA-
licensed trucks adhering to waste tracking requirements.
High-reach excavators were fitted with water suppression sprays by DEMEX to enable targeted wetting of areas immediately prior to demolition. To ensure efficient utilization of truck capacity, a custom-fabricated blade attachment was created by DEMEX and used to process the numerous steel tanks.
Safety is #1 priority and DEMEX were able to ensure the Mulwala facility kept operating safety during this very complex demolition and decontamination process.
DEMEX, located in Jacobs Well, QLD, employs approximately 85 Australians and supports subcontracted work to over 40 other Australian construction SMEs annually.
Congratulations DEMEX – this is a great achievement by a great Australian SME.