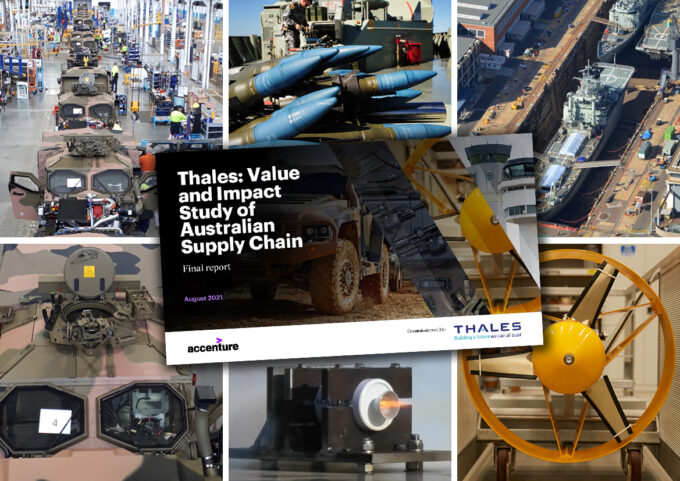 Australian Supply Chain Spending Hits Record High Despite COVID-19 Disruption
Accenture analysis finds Thales Australia's payments to Australian suppliers hit a record high in 2020.
In 2020 Thales spent $657m with 1841 Australian suppliers, and $1.9bn over the three years 2018-20.
Thales spending supported 2,051 direct jobs along the Australian supply chain in addition to 3,800 employed by Thales Australia.
Australian supply chain spending by Thales Australia increased to a record high in 2020 despite the economic disruption caused by Covid-19, according to a new detailed research report by Accenture.
Accenture analysed data on millions of payments by Thales Australia to its Australian suppliers in the most detailed economic analysis of its type on Australia's defence industry.
The Accenture report found:
In 2020, Thales Australia spent $657 million with 1841 Australian suppliers;
More than 1500 of those Australian suppliers were SMEs;
2,051 jobs in the Australian supply chain were directly supported by Thales supply chain contracts, in addition to 3,800 people directly employed by Thales;
Over the three years 2018-20, Thales Australia's spend with Australian suppliers totalled $1.9 billion.
Thales Australia CEO Chris Jenkins said the study provided more evidence of the value of spending Australia's defence acquisition dollars locally.
"Thousands of jobs and hundreds of millions of dollars in contracts flowing to Australian SMEs demonstrates that the Government's focus on driving higher Australian Industry Capability is the right one.
"Despite the massive economic disruption caused by Covid we have been able to increase our spend in the Australian supply chain thanks to the urgent measures taken by the Government and the Capability Acquisition and Sustainment Group to accelerate payments and maintain Defence spending.
"Working in partnership with Defence we've been able to boost Australia's sovereign industrial capabilities which improves our national self-reliance and delivers a jobs and economic dividend along the way."
Accenture Managing Director Andrew Charlton said the study provided valuable insights for policy makers and Defence planners as Australia ramps up Defence acquisition and sustainment spending.
"Understanding how this spending flows through Australian supply chain gives a more complete picture of the Value for Money generated by local acquisition.
"Prime Defence contractors like Thales are the key to translating Defence spending into effective supply chain and investment programs because they maintain extensive Australian supply chains across multiple programs.
"The study found a strong correlation between high supply chain spending and Thales's provision of sovereign industrial capabilities, with the largest spend on Maritime Service and Support, Protected Vehicle manufacture and Munitions and Small Arms."