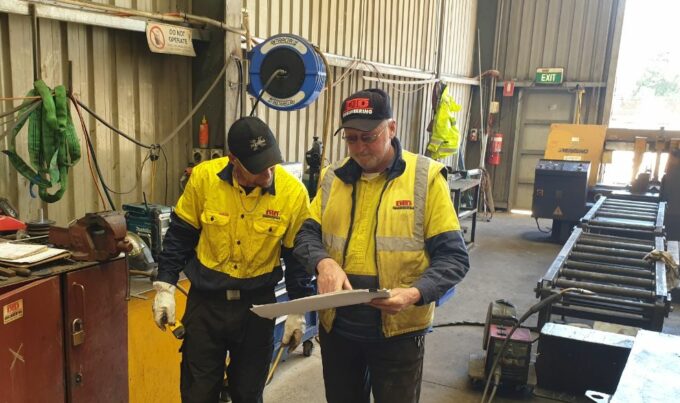 DTD Engineering seizes supply chain opportunity post COVID-19 disruptions
The importance of having trusted local suppliers has proven essential, with Australian-owned DTD Engineering stepping up to meet a supply chain gap caused by COVID-19.
DTD Engineering is a stainless, mild steel and aluminium fabricator SME based in Thurgoona, on the border of New South Wales and Victoria. Experienced in structural steelwork and specialising in difficult fabrication and installation projects, DTD Engineering provide pipework, pressure vessels, tanks, industrial ducting and conveyors.
With a thoroughly equipped workshop and over 40 years of experience, DTD has built a reputation of providing reliable and quality products to its customers. Maintaining a successful working relationship with Thales for more than 20 years, DTD was the natural choice for Thales's Australian Munitions' SME Supply Chain program.
Australian Munitions, the largest Australian manufacturer of explosive ordnance to the Australian Defence Force, were initially using range butts which were sourced from the United States. These butts required a three-month lead-time with a lifespan of around six weeks each. As the COVID-19 pandemic hit, increased lead times and additional restrictions resulted in Thales needing to find an Australian alternative.
As DTD had the necessary expertise, they came on board to supply the Maintenance Team with butts for the 60m and 300m ranges with a lead-time of one week. As well as being more cost effective and having a shorter lead-time, the butts supplied by DTD have a lower change-out time of six hours, compared to the US product of two days. This meant the range had less down-time and could operate at increased efficiency.
The new relationship has been beneficial for both Thales and DTD. Stuart Rolinson, the Profile Programmer of DTD, acknowledges that working with Thales has opened up new opportunities for the SME.
"Working with Thales and Australian Munitions has helped our business as word of mouth is considered a reliable and valuable gauge of the quality we provide. It's also enabled us to gain experience in a wide range of areas within supply and fabrication due to the scope and variety of work Thales has required.
"As Thales's Australian Munitions are in a very select niche of the market, being an ammunitions site, it is a valuable experience for our employees and company alike." Mr Rolinson said.
The partnership also enhances the Munitions' Sovereign Industrial Capability (SIC) as DTD are using local production capabilities to deliver an Australian solution.
"When the long lead time associated with purchasing equipment from the USA was exacerbated by COVID-19 complications, the mechanical team lead by the Maintenance Coordinator Brad Tonkin looked to engage local engineers and manufacturers. As DTD had the necessary expertise to meet our requirements, they were chosen as our supplier. Offering a cost and lead time improvement as well as an opportunity to bolster local industry, DTD were an obvious choice. The partnership has resulted in positive outcomes for both DTD and Thales," said Phillip Peck, Maintenance Manager, Australian Munitions.
By supporting local manufacturers, Thales is helping to create industry jobs for Australian workers. A report by Accenture found that 2,051 jobs in the Australian supply chain were directly supported by Thales supply chain contracts.
"We are proud to be able to supply our expertise and products to the Australian Defence Force to help them to be able to manufacture products that will keep our citizens and borders safe. We are an Australian company, locally owned, operated, supporting the local communities and businesses." said Mr Rolinson.
Contact Australian Munitions to find out more or discuss how you can partner with us and contribute to local job creation, and secure Australia's sovereign defence capabilities.
For more information on DTD Engineering visit: https://dtdeng.com.au/