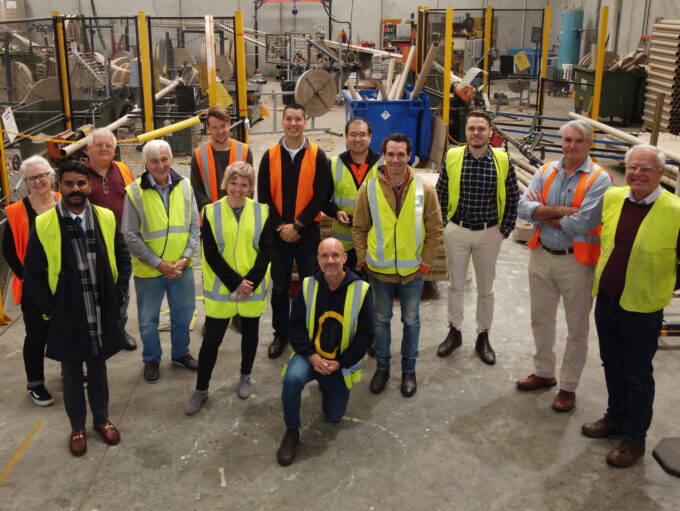 P&G Paper Tubes: a supply chain success story creating local opportunities
With competitive prices and a fast turnaround speed, there is no wonder P&G Paper Tubes are popular Australia and New Zealand wide. P&G Paper Tubes are an Australian manufacturer specialising in spiral wound cardboard tubes and cores since 2017.
The offering of speciality items such as water-resistant cores, which they are the sole Australian manufacturer of, has enabled P&G Paper Tubes to stand out from their competitors. The team of eight also recognise their ability to offer excellent customer service as a credit to their success.
After an existing overseas vendor could no long supply cardboard tubes, Thales looked for a manufacturer closer to home and the rest is history. The Laverton, Victoria based business seemed like the ideal choice as P&G Paper Tubes have formed part of the Australian Munitions' extensive SME Supply Chain program since March 2021.
"To have a partnership with a blue-chip company like Thales which recognises that value can be made locally and in the lives of our newest Australians means a lot to us. We are opening the doors to refugees who have amazing talent. We have a safe and productive factory with a workforce that speaks eight different languages." Said Arpan Singh, P&G Paper Tubes' Director of Marketing.
P&G Paper Tubes supply Australian Munitions with Cardboard Inner and Outer Tubes which are used as a protective packing surround to contain the 30mm EOD Cart inside an M2A1 metal Tin. They will be used when ready to deliver, fulfilling the current order from Defence for 30mm EOD Cartridges.
Discussing the product requirements and quality in detail with Australian Munitions, P&G Paper Tubes were able to fulfil the order in a timely manner and successfully met expectations.
"P&G Paper Tubes were flexible in their approach and were able to adapt their processes to our specifications. By producing specialised tooling (mandrels), P&G were able to wind the cardboard to our required tight tolerance dimensions." Said Glenn Milner, Supplier Technical Assurance Officer at Australian Munitions
The COVID-19 pandemic caused significant disruption across the globe, drawing significant focus on sustaining local manufacturing. The team at P&G Paper Tubes acknowledge that previously it was tempting for bigger companies to work with overseas manufacturers to save economically. However, now there is more recognition of the benefits that Australian manufacturing provide. These benefits include increased flexibility and improved lead times.
The SME Supply Chain program has encouraged the development of Sovereign Capability within Australia. A recent report by Accenture found that Thales Australia spent $657 million with 1841 Australian suppliers, which directly supported 2,051 jobs in 2020. P&G Paper Tubes emphasise that the industry can build Australian products and livelihoods if SMEs and larger companies partner together. "I wish there were more forward-thinking companies like Thales." Said Mr Singh.
Contact Australian Munitions to find out more or discuss how you can partner with us and contribute to local job creation, and secure Australia's sovereign defence capabilities.