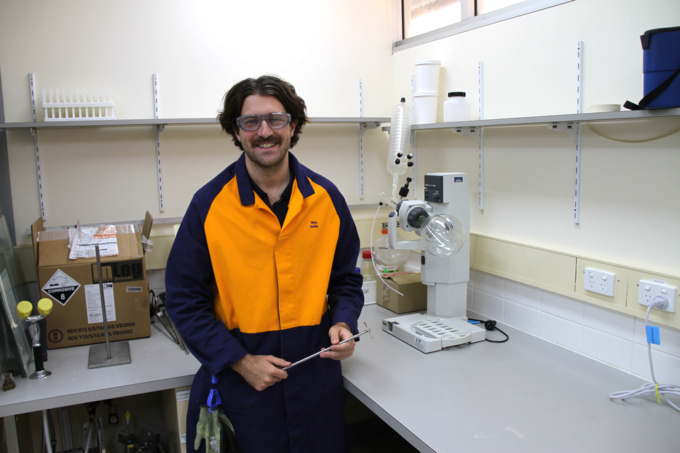 R&D placement for Defence Grad
Rhys Centin from the Department of Defence is completing his graduate rotation work placement at Australian Munitions within Mulwala's Research and Development team.

Rhys' career began as a chemical engineer in 2018 as a Graduate Civilian Engineer within the Department of Defence's Naval Technical Bureau. During this time, Rhys has worked in the Armament Technologies Cell on EO stores risk assessments and propellant decomposition analysis, as well as in the Auxiliary Mechanical Systems Cell on refrigerants compliance and seawater fire-main testing and validation.
After a tour of the Mulwala manufacturing facility in May 2018 for his Defence Explosive Ordnance Technology Course, Rhys reached out to Australian Munitions expressing his interest in completing a 7 month placement.
"When I first arrived at the Mulwala site, it's certainly hard not to be overwhelmed by how large the site is! It's certainly impressive to see the number of different capabilities that the site has, and although the various departments can appear quite autonomous, overall they come together and integrate at a level I haven't seen during my time as an engineer before."
During his time at Australian Munitions, Rhys is looking to gain a real appreciation for the munitions manufacturing process and the research and development behind process optimisation and product development. "Having had experience in providing technical advice to the end user at my time with the Department of Defence, having a more holistic view of product supplied to the ADF will put me in good stead for an armaments engineering role within the defence industry in the future."
"The Research and Development team at Mulwala are great to work with and have made every effort to help me out along the way. I'm enjoying the amount of hands on work I've been able to accomplish already in such a short period of time. So far a highlight has definitely been the time I've spent utilising the pilot facility to assist with product development activities."
Australian Munitions Research and Development Manager Ashley Jones said "It is great to have these external work placements as it gives us the opportunity to share our knowledge and passion for the industry as we undertake cutting edge development on new propellant and explosive solutions for the ADF. We look forward to working with and supporting Rhys for the next 5 months."