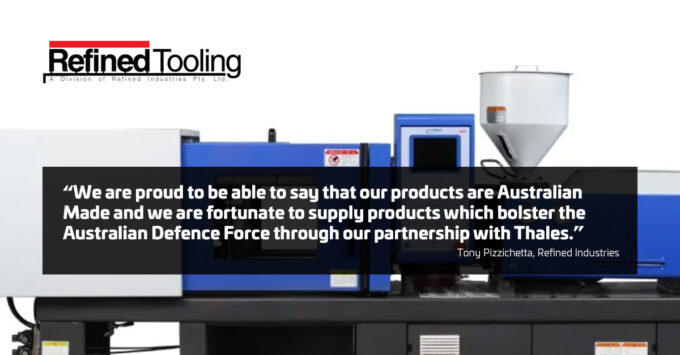 Refined Industries credits partnership as key to new growth
Constant innovation and customer focus have been key to the success of Refined Industries in building long term partnerships and accelerating business growth. Refined Industries is a plastic injection moulding company based in Carrum Downs, Victoria.
Manufacturing a diverse range of custom plastic products, Refined Industries caters for customers in Defence, medium sized private companies, and entrepreneurs. Their products include polycarbonate and disposable drinkware, Defence industry products, homewares, hose fittings, automotive, exhaust fans, concrete construction and sports training aids.
Offering full end-to-end customisation, design, engineering and production, the team at Refined Industries are dynamic and flexible in responding to customer requirements. As the plastic injection moulding industry continues to become more competitive, Refined Industries stands out due to their excellent customer service and expertise gained over 23 years of operation. Whether it be technical support or delivering on-time, customers of Refined Industries know their needs will be met.
The competitive pricing and outstanding customer service are two of the many reasons that Thales's Australian Munitions business and Refined Industries have worked together since 1999. The productive partnership has seen various projects and product developments over the years, with Refined Industries having built injection moulding tools, produced plastic components and assisted in the development of new products. This opportunity to create new products has been an exciting progression for Refined Industries, enabling them to build on their existing expertise and skills.
Since working with Thales, Refined Industries have gained recognition from the market place. The successful relationship has proved to future clients that Refined Industries has the capability to meet important customer requirements and create bespoke solutions. It has also been the catalyst for Refined Industries to continue improving their products and processes.
Tony Pizzichetta from Refined Industries said "Working with Thales has helped us set higher standards for our production and products."
The focus on building Sovereign Capability has been a point of pride for both Thales and Refined Industries. Over the last three years, between 2018 – 2020, Thales has spent over $1.9 billion with Australian suppliers. Organisations like Thales continue to focus on their Australian partnerships to support local manufacturing and over 2,000 jobs in the Australian supply chain are directly supported through Thales-led contracts. This has boosted revenue and secured jobs for local SMEs like Refined Industries and helped to create more opportunities for Australian manufacturers.
"Local suppliers have always played a crucial role in our supply chains. As Thales is committed to building Australian sovereign capabilities, we have continued to be at the forefront of supporting local industry. Our long-term partnership with Refined Industries is a testament to the importance of Australian SMEs and the value they contribute." Said Glenn Milner, Supplier Technical Assurance Officer at Australian Munitions, Thales Australia.
As an Australian owned SME, Refined Industries value their partnership with Thales and how it contributes to the wider community.
"We are proud to be able to say that our products are Australian Made and we are fortunate to supply products which bolster the Australian Defence Force through our partnership with Thales."
Contact Thales to find out more or discuss how you can partner with us and contribute to local job creation, and secure Australia's sovereign defence capabilities.
About: Australian Munitions is a business of Thales Australia Limited and is the largest supplier of explosive ordnance to the Australian Defence Force, with a successful track record delivering ammunition, propellants, explosives and related services. We are also a principal supplier of small arms ammunition to the New Zealand Defence Force. Australian Munitions also produces high quality propellant and ammunition for military and civilian domestic and international customers.