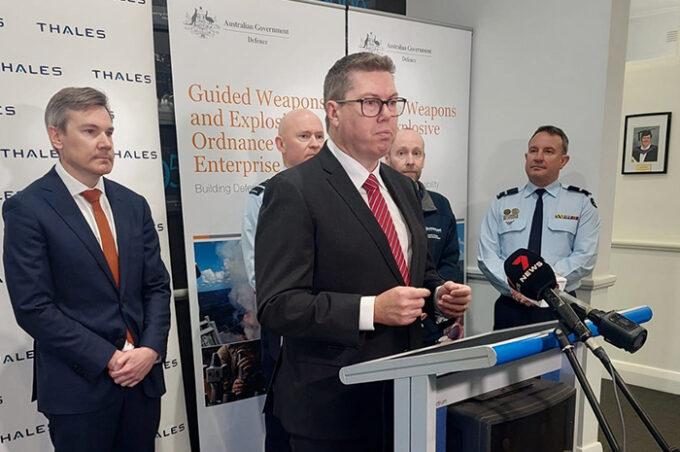 Thales Australia welcomes Government Investment in local munition manufacturing for Defence
This investment is a vote of confidence in the capability of Australian industry to support the Government's objectives to build this important sovereign capability right here in Australia.
Minister for Defence Industry,
The Hon Pat Conroy MP said, The Albanese Government's investment in these cutting-edge technologies demonstrates we are delivering on the Defence Strategic Review's recommendations to develop advanced munitions manufacturing in Australia. The Mulwala and Benalla munition factories underpin Australia's ability to develop critical propellants, explosives and munitions for the Australian Defence Force.
For more than 25 years, Thales has supported the Australian Defence Force (ADF) and strategic partners with core industrial capabilities for munitions and ordnance manufacture, and guided weapons production including the manufacture of high-performance propellants and explosives for warheads, solid fuel rocket motor manufacturing and associated R&D and support services.
Thales Australia and New Zealand CEO Jeff Connolly said, "I welcome the Government and Minister Conroy's announcement to invest in this critical capability that will support the significant step-change in technology development and innovation necessary to continue to grow a highly skilled workforce and create the advanced manufacturing jobs of the future."
In 2021 Thales Australia invested $6million in new state-of-the-art advanced manufacturing equipment at the Commonwealth owned Mulwala facility in regional New South Wales, to rapidly accelerate sovereign guided weapons manufacturing capability.
The company's investment in new large-scale preparation and mixing equipment will enable a 500% increase in the size of rocket motors able to be manufactured at Mulwala, supporting production of advanced guided weapons and hypersonic weapons.
Thales's investment in increasing Australia's industrial capability is a clear demonstration of the company's long-term commitment to growing and maintaining an enduring, sustainable and resilient sovereign industrial munitions capability, and be an indispensable partner to the Australian Defence Force in delivering them a strategic sovereign capability advantage said Mr. Connolly.
Thales Australia is the nation's largest manufacturer of munitions, propellant and military explosives and manages the government owned contractor operated (GOCO) sites in Benalla, Victoria and Mulwala, New South Wales employing over 650 skilled staff to manufacture munitions systems for the ADF and allied forces.
About Thales
Thales Australia is a trusted partner of the Australian Defence Force and is also present in commercial sectors ranging from air traffic management and ground transport systems to security systems and services. Thales Australia employs around 3,800 people directly and supports over 2,051 jobs along its Australian supply chain. Since 2018 Thales Australia has spent over $1.9 billion with local Australian businesses.
Thales Australia has a history of patient investment to build advanced in-country capability across manufacturing, critical systems and services. Close collaborative relationships with local customers, Australian SME suppliers and research institutions combined with technology transfer from our global business enables Thales to tailor high-quality solutions for Australian and export markets, generating revenue of $1.6 billion in exports over the past 10 years.