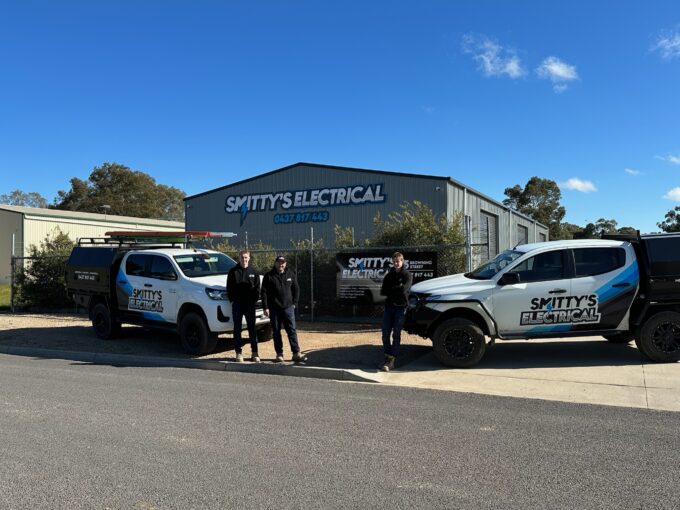 Victorian SME Smitty's Electrical supports Thales in providing a safe work environment
Indigenous-owned Smitty's Electrical has been working with Thales for sixteen years, providing safe and secure electrical services for Thales's Australian Munitions business.
Based in Wangaratta, Victoria, Smitty's Electrical provides electrical services ranging from industrial control and installations; hazardous area installation and inspections; test and tag; high voltage switching; domestic and commercial installation; as well as labour hire and shift coverage.
Smitty's Electrical has a team of five highly skilled employees including A-Grade Electricians, Electrical Apprentices, and administration. They are committed to keeping up with innovation in technology and are training their employees to develop their skills. Their team includes a recently qualified apprentice in Certificate 3 in Electrical Technology, and a 3rd year apprentice, who will continue on as A-Grade Electrician's.
"Working with a large organisation like Thales provides our business with a professional view of safety on the work site and helps us to manage and improve a safe working environment for our own business. It has allowed us to do training and upskilling when there is a need," said Danie Smith, Director of Smitty's Electrical.
A reliable electrical services partner with a focus on safety is critical to Thales. Smitty's were chosen for their specialty in hazardous area installations and extensive industrial knowledge.
"Smitty's Electrical have been supporting the Thales maintenance team in Benalla for 16 years. The electrical team are all experienced in the munitions and explosives manufacturing environment, and they ensure that safety always comes first. Smitty's team work closely with Thales to understand the task and potential risks to ensure the project is carried out safely," said Phillip Peck, Maintenance Manager at Thales's Australian Munitions.
Priding themselves on creating professional and reliable relationships with their customers, is one of the many reasons Thales has maintained a strong relationship with Smitty's Electrical for over 16 years. Smitty's have demonstrated their flexibility and responsiveness, especially in recent years where the COVID-19 pandemic caused significant disruptions and supply chain issues across the world. Smitty's deliver continuous support to Thales by completing critical jobs when required. Flexibility is key and there are times when a phone call is made for support of labour the following day and Smitty's will always make it happen.
"Working closely with Thales gives our employees the opportunity to work in a professional environment, to build their skills in a complex manufacturing environment across different fields such as electrical fault finding, low voltage maintenance, and hazardous area installation, and also their communication and leadership skills," said Daniel Smith.
About: Australian Munitions is a business of Thales Australia Limited and is the largest supplier of explosive ordnance to the Australian Defence Force, with a successful track record delivering ammunition, propellants, explosives and related services. We are also a principal supplier of small arms ammunition to the New Zealand Defence Force. Australian Munitions also produces high quality propellant and ammunition for military and civilian domestic and international customers.