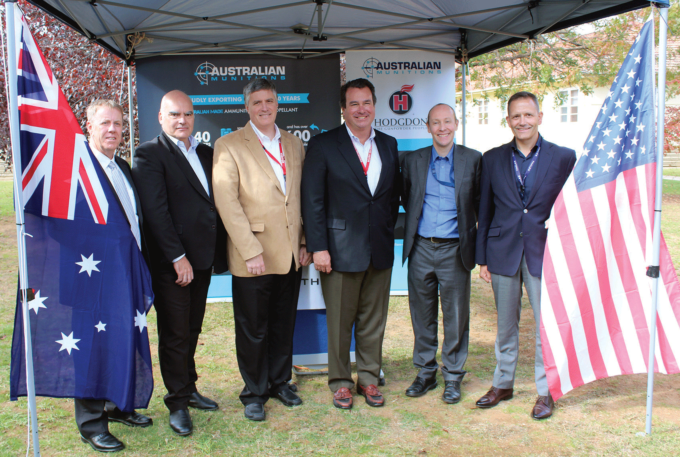 Hodgdon and Australian Munitions celebrate 30 years as partners
American firm Hodgdon was started by Bruce Hodgdon roughly 70 years ago. A keen reloader, at the end of WWII he'd heard the US military was literally burning off surplus smokeless propellant just to be rid of it.
Following up on this he became the proud owner of 50,000lb or about 22,700kg of government surplus 4895 powder which had been used for loading the US military's 30/06 ammunition during the war. He rented a farm paddock, parked up his 22 tonnes of powder in an old railcar and put a small ad in American Rifleman magazine. He was now in business. Further deals for other surplus propellant would follow and the enterprise grew steadily over the years.
An interesting point is that Hodgdon, although a household name in reloading powder for both smokeless cartridges and muzzleloaders, has historically been a distributor of propellants manufactured by other companies but branded and sold under the Hodgdon label. One such relationship that has just celebrated 30 years is that between Hodgdon and Australian Munitions (ADI). For those in the know it's no secret that many of Hodgdon's most respected and popular products sold in the US are Aussie home-grown propellants. As part of marking this 30-year milestone, the SSAA was invited to attend the official acknowledgement of the achievement which also encompassed a tour of the Australian Munitions propellant facility at Mulwala in NSW.
Our Australian-made products are world renowned and reportedly remain the first choice in propellants for some of the world's most distinguished military units. A reason behind this success is the Australian Munitions brand has an uncanny ability to not be adversely affected by fluctuations in temperature. Where many other propellants may show considerable variances in velocity as temperatures rise and fall, Australian Munitions' output remains relatively stable, delivering less standard deviation in velocity and increasing consistency in accuracy. Ballistic Temperature Independence (BTI) is the key point of difference between Australian Munitions' propellants and that of its competitors.
My personal relationship with powder from the Mulwala facility would probably just predate Hodgdon's by a couple of years, as I reckon I may have bought my first tin of the then-called Mulwex 2206 around 1986 when I initially started reloading at the age of 16. As such I was quite excited about the prospect of seeing how it was all made.
The Mulwala propellant plant was established in 1942 to support the war effort. The location was selected due it being well out of range of possible naval bombardment, far enough south to be beyond potential Japanese aerial bombing and being on the Murray River to have access to plenty of water required for the tasks.
The site sprawls over 1030 hectares and employs 420 staff. In effect a huge chemical factory, safety dictates various processes be separated by distance. Even though it's an industrial site, the area maintains many 'green' zones of vegetation providing habitat for native species. The Mulwala unit boasts the highest standards in Environmental – AS/ NZS ISO 14001; Occupational Health and Safety – OHSAS 18001; and Quality – ISO 9001 – accreditations.
There are four main production areas – Acid/NC Section dealing with the base materials required for production; Powder Section manufacturing around 30 propellant variants; Cast Composites, Rocket motor assemblies and small scale PBX production; and High Explosives for various applications including mining.
Among the items made are high explosives and propellants including RDX, TNT, R/T compositions, PBX; single and doublebased propellants; cast composite rocket motor production; nitrocellulose, nitroglycerine; plastic explosives and chemicals including nitric acid and calcium nitrate.
Naturally the whole site is a highly restricted area for both security and safety purposes with a fair list of requirements to adhere to. Protective clothing for the visit included a flame-resistant dust coat, safety glasses, hard hat and an anti-static device fitted to your boot to earth you to the ground. Of course nothing battery operated or capable of omitting a spark, including jewellery, can be worn.
The tour itself was quite fascinating, as the whole factory underwent a major upgrade recently including a brand new propellant plant reportedly at a cost of $360 million. Many of the older sections have been made redundant or in some cases mothballed for future contingencies. Many processes that previously required manual handling have been completely mechanised and are carried out remotely. This almost completely eliminates potential risk to employees.
Just about every procedure has an automated built-in mechanism to safely shut operations down should anything go wrong. So where once you had people literally turning valves and looking at gauges to control certain reactions, those operations are located in a separate building being monitored in a control centre, with stations more resembling the flight deck of a 747.
Products travel between the various areas, in many cases hydrated with water keeping them inert where possible as they're piped as a slurry between processes. However, some procedures still require a human touch. One of the more interesting of these, only used for some specialised propellants, is where after the base propellant mix has been manufactured, it is formed into 30kg cylinders before being placed in a massive hydraulic press and extruded into continuous long strands resembling spaghetti. This is then hand-fed into machines that cut these strands into the tiny grains reloaders would be familiar with. Batch sampling is continuously carried out with workers inspecting propellant under electronic microscopes to ensure quality. I was told samples of every finished batch are also archived for reference if required at a later date.
After the cutting stage, still a raw product and white in colour, it's once more hydrated and piped to another area where it is dried and coated, giving it that familiar graphite appearance before being packed and shipped to various end users. That could be Hodgdon in the US, domestic reloaders such as Australian Munitions (ADI) propellants or to the Benalla munitions base to be loaded into both military and civilian factory ammunition.
After the tour, ceremonies took place celebrating 30 years of the Hodgdon and Australian Munitions relationship. Addressing a group of Mulwala staff and business partners, Hodgdon president and CEO Steve Kehrwald reflected that in its 70-year history, Hodgdon had dealt with just about every gunpowder manufacturer in the world and said: "I can state unequivocally that Hodgdon's 30-year relationship with Australian Munitions is the best relationship Hodgdon has enjoyed with any partner."
Australian Munitions managing director Dion Habner welcomed all attendees with special mention to the plant's staff and singled out foreman/team leader John Crosthwaite who has been in employment at Mulwala for an amazing 54 years.
Mr Habner reflected on the incredible success of the Hodgdon partnership in helping them become the "leader in propellant distribution". He expressed Australian Munitions' commitment to new products and research and development with annual investment exceeding $1.5m. Touching on the recent upgrades, he noted that once brought up to full production the facility would represent "the most modern and capable extruded propellant facility in the world".
In the past 30 years Australian Munitions has exported an incredible 20 million pounds or more than nine million kilos of powder to Hodgdon, enough to fill 720 shipping containers. Also speaking, Hodgdon chief financial officer Daniel Thelen mentioned Hodgdon's number one selling product in the US as H4350, known to Aussie shooters as AR2209. The previous best seller and not far behind H4350 is 'Varget' or what we'd call AR2208.
He said: "Nothing is as good as what is made here." He also stressed how Hodgdon enjoyed receiving Australian Munitions' propellant as it's what customers demand. I can attest to this as it's a common topic of discussion on my visits to the US SHOT Shows. Even on a visit to the Valley of Fire state park, a fellow tourist spotting my Lithgow Arms cap and establishing I'd been there for the SHOT Show quizzed me as to when we might be sending some more shipments of H4350 (2209).
It's always great to hear of Australian products doing well on the world stage and equally gratifying to realise that an item Aussie shooters might well take for granted is considered the world standard – and it's made right here.
Reprinted from Australian Shooter and used with permission of the Sporting Shooters' Association of Australia.